The race to succeed Angela Merkel as German chancellor is wide open, but the rivals all face the same tough challenge: how do you stand out, overshadowed by such a political colossus?
Mrs Merkel has dominated German politics for 16 years as chancellor. Her would-be successors have to make their mark before the September federal election.
Here is a quick guide to who they are, with an assessment by our correspondent Damien McGuinness, in Berlin, of the chances they have.
Armin Laschet, centre-right CDU/CSU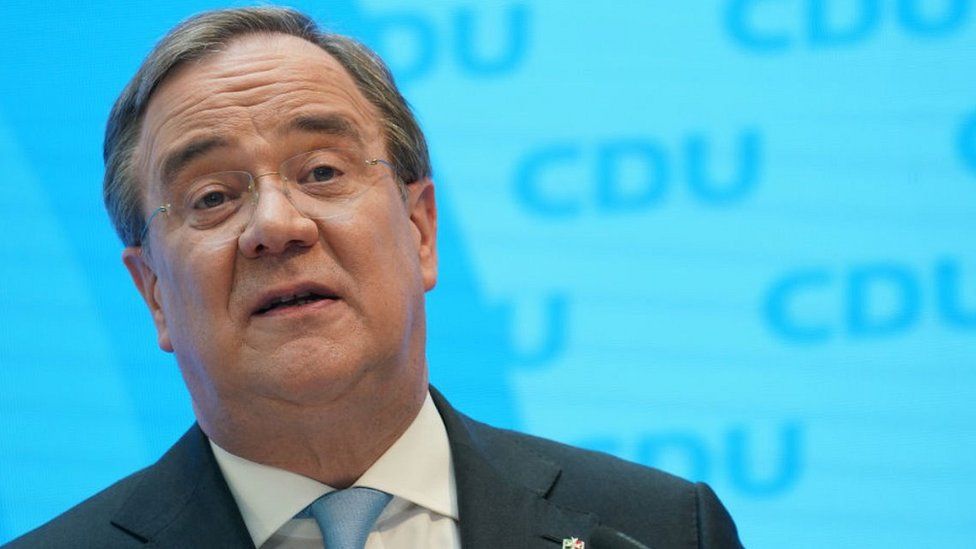 He was the front runner but his campaign has foundered, mostly as a result of his own unforced errors.
Mr Laschet, 60, is the leader of Chancellor Merkel's centre-right Christian Democrats (CDU) and premier of heavily industrial North Rhine-Westphalia (NRW), Germany's most populous state.
He only narrowly secured the nomination to be the candidate for chancellor, defeating his Bavarian rival, Markus Söder, after the party leadership rallied behind him.
Support for the CDU and its Bavarian sister party, the CSU, was already waning because of the pandemic. Mr Laschet himself was accused of inconsistencies and poor management of Covid-19 in NRW.
And then in July, Mr Laschet was caught on camera laughing as the president of Germany made a speech in a town which had been largely destroyed by catastrophic flooding. His reputation was badly damaged and has not recovered.
One poll on 2 September indicated the CDU/CSU had slipped to a record low of 20%, overtaken by the SPD on 25%. Another, on 31 August, suggested just 10% of voters would prefer Mr Laschet as chancellor over his rivals.
The son of a miner, and a lawyer by training, for years Mr Laschet defended Germany's powerful coal industry. He has stood by the decision not to bring forward the end of using coal for energy from 2038.
He is well-connected internationally and is firmly pro-EU: he served as a Euro MP and hails from Aachen, a border city with strong French ties.
In 2005 he became minister for integration in his home region, the first such post in Germany, and forged strong ties with its large ethnic Turkish community. He firmly backed Mrs Merkel's lenient but controversial policy on immigration in 2015, when more than a million migrants reached Germany.
The Catholic Church was a strong influence on him as a boy, through his devout parents and his Church-run school. He is married, with three adult children.
What are his chances? Armin Laschet has abruptly dropped any pretence at being a Merkel-style centrist and come out as a traditionalist right-wing fighter, writes the BBC's Damien McGuinness in Berlin. His conservative allies are thrilled, but it's a sign of how badly his campaign is doing.
Until recently the CDU/CSU had hoped to win over Germany's middle-ground, and ideally score over 30%. That now seems unfeasible. So Armin Laschet is suddenly tacking right, and catering to core conservatives. The party would now settle for the low 20s on election night – as long as it's just a few percentage points more than left-wing rivals.
It's a risky tactic, given elections are usually won in the centre ground. But it might still just make Mr Laschet Germany's next chancellor.